This blog post is way past due, but a very important one nonetheless. Earlier this year in March, I moved into a beautiful apartment with a local and a couple from Canada. This place was amazing; not only did we have a a view of the ocean from our living room, I only had to pay $350 US for a private room. This place also had a roof with a 360 view of Caye Caulker and was only steps from the beach.Just three days after I moved in, I had just gotten off a call with a client and my roommate started yelling that there was smoke and that we needed to get out. I grabbed my passport, debit cards, laptop, and phone before rushing down the stairs and looking up the fire department's number-no one answered. My roommates and I waited for about 15 minutes before a fire truck came, but by that time it was too late. The fire had engulfed half the apartment and the firetruck ran out water anyway. It was great to see a sense of community as those passing by formed a bucket brigade to put out the fire, even though it was in vain. Ironically, this was the only trip I have ever gone on without travel insurance. All my clothes apart from the ones I was wearing were burned, and I was left with a backpack containing my most essential items. This is why it's important to buy travel insurance. You just never know when something like this can happen. Another tip is to check if your accommodations have smoke detectors. I could have been burned to a crisp if this had happened during the middle of the night.​
No matter where you go, despite the language, culture, currency or average gdp per capita, people will talk shit about you. This is especially true for an island with a population less than 1500 people. After a few months on the island, people started to spread rumors that I was a fugitive. I thought it was a pretty cool rumor, but not everyone can be so lucky in regards to the rumors being spread about them. A good female friend of mine had rumors going around that she was sleeping with not only me, but other tourists around the island. Many of these rumors tend to be about business as well. As the entrepreneurship on the island booms and individuals discover opportunities, they are also aware of the limited space and resources around the island. Many local Belizeans have shared with me that there is an inherent envy towards those who do well financially, and it is not surprising that this envy leads to rumors intended to prevent an individual from succeeding. Unfortunately there is no way to stop this besides refusing to being a part of it, which is easier said then done.​ If you intent to move here, keep in mind that this happens all the time, and you need thick skin in order to deal with it.
is Caye Caulker gay friendly?
Is Caye Caulker gay friendly? The short answer is no, not really. Like any country or city you cannot generalize about the values and perceptions of all based on those of a few. However, it is much easier to measure the attitudes of a population towards a particular topic when the sample size is so small. It is no surprise that the locals who work with tourists adopt more liberal views, and tend to be more tolerant of subjects like homosexuality. Whether they have acceptance for it is an entirely different question. A common Belizean Creole term you'll hear around the island, is "Batty Boy" which literally means "Butt Boy" in English and is a pejorative word for a gay or effeminate male. I've even heard kids say it in front of their parents, from whom they are likely to have learned it. My best friend on the island is bisexual, and he has told me many stories about the hateful manner in which he has been treated by people in Belize. I experienced this first hand just two months after living in Caye Caulker. My friend and I had dressed up to go to a full moon party at Koko King, and we were harassed on the boat by a group of young Belizean males. One of the boys had said "Get all the batty boys off this boat", which sparked an argument and almost turned into a fight. Fortunately the employees saw what was happening and gave our group of friends a ride back on a different boat. Surprisingly, there are anti discrimination laws in Belize and in 2016 it became legal to engage in same-sex sexual activity. Belize does not, however, recognize same sex marriages. While there seems to be political changes moving towards acceptance for gay individuals, the hate is all too present in social settings. While this should not prevent you from coming to Belize, it is something to keep in mind before doing so.​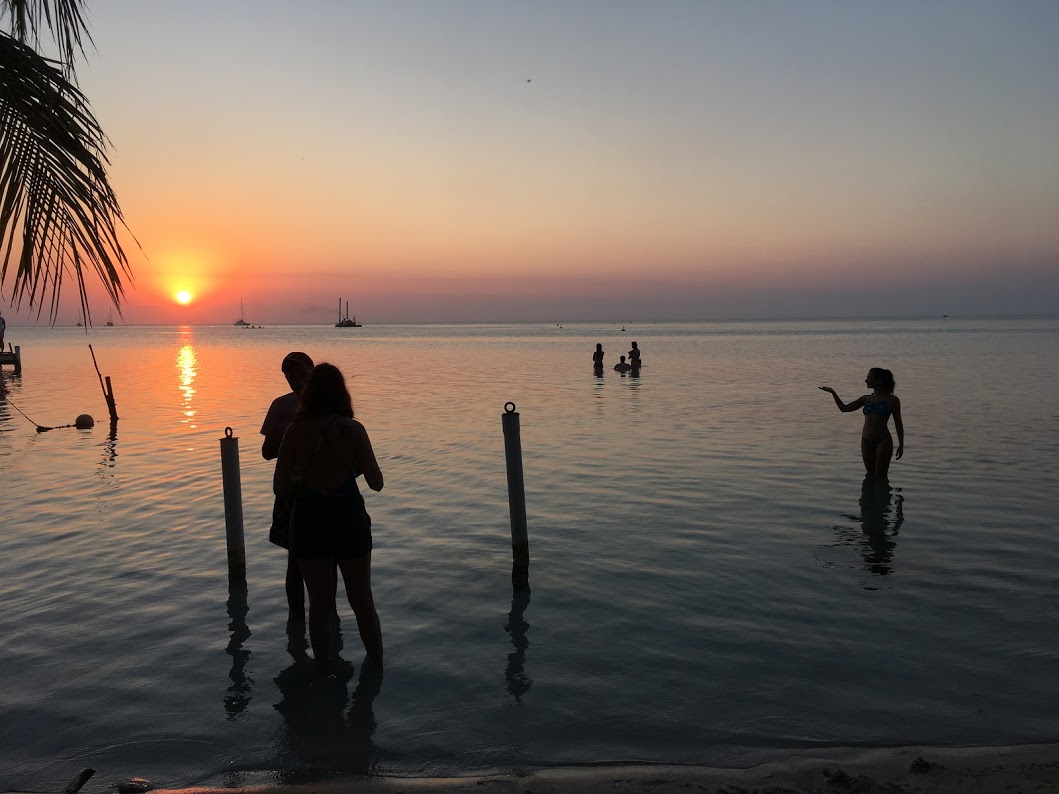 Safety is an important concern no matter where you're going, and recent events in Caye Caulker beg the question of personal safety on the island. Just a few days ago, a 24 year old female was raped on the island at knife point. This is not the first time something like this has happened. Just a few months ago, an attempted rape occurred at Bella's Backpackers. A local snuck into one of the dorms and proceeded to pull down a female tourist's pants, who started screaming. Even though this individual was caught leaving Bella's on camera, nothing ever happened to him. Before this, I witnessed a teenage boy drop a cinderblock on another boys head from 10 feet up. How can a place be safe if there is no accountability for this kind of behavior? What are the police doing about this? The answer is not much. Unfortunately, the police on Caye Caulker are corrupt. Not only do serious crimes go unpunished, the police also work with drug dealers to make money off of tourists. You won't find much about this online because travel bloggers who write about Caye Caulker aren't here long enough to experience it. It usually goes like this; a tourist is either offered or goes looking for marijuana or cocaine. The dealer who sells to the tourist informs a policeman, and the policeman then catches the tourist with drugs. The tourist is then threatened and told that if the they pay a bribe they won't go to jail. I personally know two foreigners who went through similar circumstances. Best thing to do if you come here is stay away from drug dealers, and don't give cops a reason to mess with you. Dealers are really good at pretending like you're their friend, but you're just a dollar sign. If you live here you can just smoke inside your house, but I wouldn't recommend walking around at night with anything on your person. ​
I remember living in Thailand for nearly four months on $1,500 USD. Every country I've visited since has been significantly more expensive, Caye Caulker included. Let's start with the biggest item regarding living expenses; housing. A hostel is great for short term accommodations and your cheapest option save for passing out on the beach, but even the cheapest dorms can cost you nearly $400 USD a month at their daily rate. The rental options on the island aren't much better, even when shared with one or two other roommates. A private room in a three room one bath apartment on front street will run you about $350/month, and some may or may not include electricity, water or internet. If you are planning on renting a house, make sure the internet is already hooked up. You don't want to be a foreigner tasked with the prerequisites required for the apparently daunting task of providing a house with internet capabilities. Unless your're Mormon, your next biggest living expense is going to be alcohol. You will be tempted to save money by drinking the Caribbean Rum that can be purchased for less than $5 USD per liter, but I wouldn't recommend it. The hangover produced by merely 4 drinks containing this toxic liquid will ruin you, and while it's doing its job on your liver you'll undoubtedly regret your otherwise sensible frugality. If you must save money , stick to the local beer which is sold from $1.50 USD to $3 USD, the cheapest being sold at the Caye Caulker Liquor Bin and the most expensive at the Lazy Lizard and Sports Bar. Belikin is not a bad choice and it won't make you wish you were dead in the morning. When it comes to food you can really start pinching pennies, especially if your accommodations have a kitchen, a stove top and some basic kitchenware. If you're lazy orjust annoyed with preparing your own food, fear not. The two best eateries for both local and cheap Belizean style food are within site of each other. Both Aunties and Meldy'ssell my favorite dish, stew chicken with rice and beans with a side of coleslaw. Meldy's sells hers for $4 USD and Aunties for $3.50 USD, but between you and I Meldy's is worth the extra fifty cents. Miscellaneous items like soap, shampoo, toothpaste, feminine hygiene products, etc., you can expect to pay similar prices to what you would back home. After you're done diving, snorkeling, kite surfing, paddle boarding, kayaking, and what have you, you'll find that the free things are just as if not more enjoyable. Watching the moon rise was something I had never done until coming here, and it's completely free. You can live extremely comfortably here for less than $1000 USD. Keep in mind most locals live on an average wage of $150 USD per week, and they aren't starving. ​
Working on an island in the Caribbean isn't as easy as you might believe, and in many ways it's more difficult than working in a traditional work environment. No one thinks you have work to do: If you're a backpacker, chances are you're not a stranger to communal living spaces. This means loud conversation, shared wifi and worst of all, people who can't take a hint. Peace and quite is less than occasional and calls to clients are usually made from semi-quiet bathrooms at 4am when no one is awake to bogart the wifi. To other backpackers, you'll be branded as antisocial. Some will ask what you do, and after explaining that you work online, will continue talking to you as if they ignored your answer. In Caye Caulker, there are droves of socially inept people who can and probably have made others go mad with their disregard for nonverbal cues. Shared wifi connections: We all know shared wifi is common when traveling, but did you know it's also really unsafe? If you access your bank account or other sensitive websites using shared wifi, a simple "man in the middle" program can be used to watch everything you're doing. Keeping electronics charged and clean: If you're traveling in third world countries, Caye Caulker included, forget strategically placed outlets and comfortable seating. If you can even find an outlet, your charging cord won't reach from where you're sitting. Even if you were smart enough to bring an extension cord, the outlet either won't work or your cord won't hold itself in the outlet. Dust and humidity on the island are infamous for keeping your expensive electronics from lasting as long as they should. Being disciplined: Going to work in a boring office is hard enough, but what if your office had a bar, pool, and a never ending supply of fit girls in bikinis? Distractions are everywhere and it takes constant will power to shut out the play when it's time to work. ​